WHO ARE WE?
Seabo is a leading Hong Kong-based company with over 30 years of international reputation in the seafood industry. We import and distribute quality wild and farmed frozen seafood products from around the globe.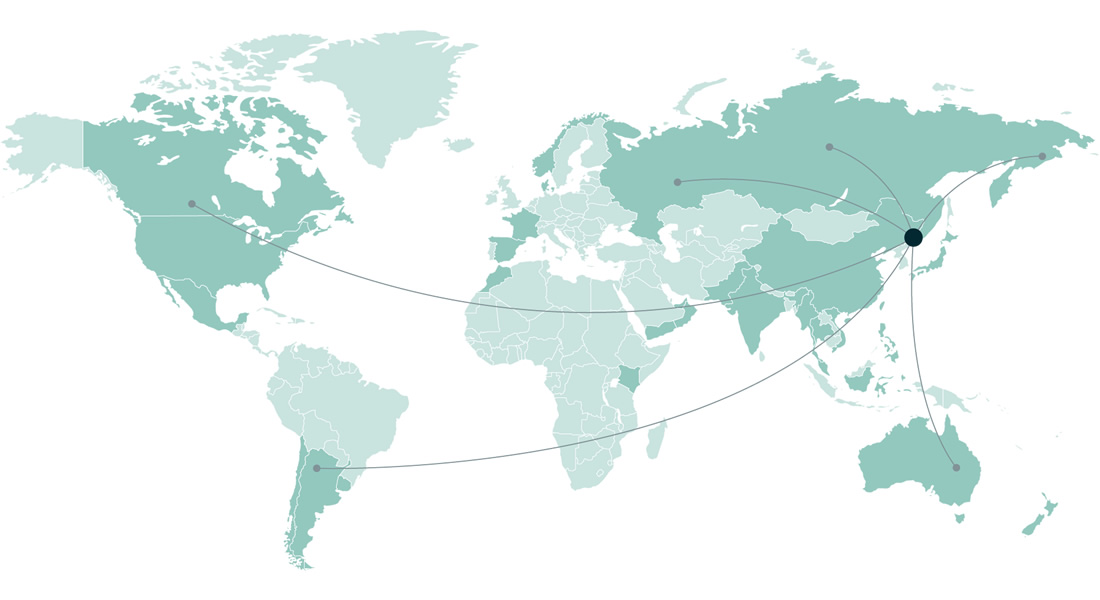 WHERE ARE OUR PRODUCTS FROM?
With our extensive global connections, we source, secure and import exceptional quality products directly from over 30 countries around the world. By using the latest technology in freezing, we are confident to deliver a vast variety of fresh, wild and sustainable seafood to your assigned destination.
AUSTRALIA
CHINA
KOREA
PHILIPPINES
UAE


BANGLADESH
INDIA
MALAYSIA
RUSSIA
USA


BRAZIL
INDONESIA
MYANMAR
SRI LANKA
VIETNAM


CANADA
IRELAND
NEW ZEALAND
TAIWAN


CHILE
JAPAN
NORWAY
THAILAND


Our global reach has enabled us to source and secure a large variety of frozen seafood, wild and sustainable.
WHAT DO WE OFFER?
Seabo's team of expert buyers are dedicated to locating and importing more than 60 distinctive seafood species from different parts of the world. We source seafood from multiple producers and regions, in order to acquire reliable, quality and value add products.


OUR SEAFOOD JOURNEY
Established in 1981, Seabo locates the best products from their origin and import it directly for our customers
With more than three decades of experience in sourcing and importing exceptional seafood from around the world, Seabo has an international reputation for quality products and a commitment to excellence.
Seabo Proprietary Company was established

Seabo International Limited began at Gresson Street, Wanchai, Hong Kong

Seabo introduced its first in-house label - Dragon Brand and Shrimp Brand for packaged fish fillets and shrimps

Seabo as the honorary guest at the China Guangdong Australia Business Conference

Seabo as the honorary guest at the Business Fair for Hong Kong and Guangdong Economic Technology and Trade Cooperation

Seabo introduced another popular in-house label - Softshell Crab Brand to its local business

Retail booth displayed at the Hong Kong Restaurant and Bar Convention

Operations expanded to Kwai Chung, New Territories

Hong Kong's Food Factory License attained for the new Kwai Chung premises

New enterprise resource planning system implemented to streamline business operations

ISO 20001 license for Kwai Chung facility – pending approval
+
-
BRAND IDENTITY
Seabo and the sea
At Seabo, we source the seafood from its origin. By avoiding the involvement of different middle parties, we can ensure that we provide the freshest products at the most competitive price.

Our company logo reflects our affiliation with the sea. The sea is where we source our products. It is our origin. It is our DNA.

VISION
With over 30 years of international reputation in the seafood industry, Seabo demonstrates strong ability to forecast changes in the global seafood market, to pre-empt market trends and to make forward-thinking purchasing and sourcing decisions for the future. We meet every opportunity and challenge with an unwavering passion to succeed.
MISSION
At Seabo, we strive to import and distribute exceptional quality of frozen seafood from around the world. Our strong supplier network, advanced process systems and in-house extensive logistics system guarantee the highest standard of products to better service our clients in a consistent and timely basis.
OUR VALUES
Seabo conducts business with the below core values:
QUALITY ASSURANCE
Seabo's certified seafood products guarantee freshness, premium presentation and exceptional quality.
We work exclusively with processors having the latest technology (such as IQF) in rapidly freezing the seafood products, as well as those facilities that are EU, FDA and HACCP approved. The products are minimally handled in distribution, which provides us with confidence in distributing exceptional quality products to our customers.